Some Background on Wireless
Background. WLAN is the typical acronym used for Wireless LANs. Since RF - Radio Frequency wireless is predominating, we will focus on these. Even though WLANs share a lot of similar characteristics with wired LANs, a fairly independent set of jargon has developed.

There are three major types of topologies.
IBSSs - Independent Base Service Sets
BSSs - Basic Service Sets
ESSs - Extended Service Sets
A service set is a logical grouping of devices. WLANs provide access using a wireless RF carrier. When a receiving station is within range of at least one transmitter communication can occur. Transmitters preface their transmissions with a SSID - Service Set Identifier. The receiver makes use of the SSID to filter through the signals it receives to locate those it wants to listen to.
IBSSs. An IBSS consists of a group of wireless stations that communicate directly with one another. These are sometimes called ad hoc networks due to the peer-to-peer nature of their interactions. We will not spend anymore time on IBSSs.

BSSs. A BSS is a group of wireless stations that can communicate with each other, except it is done through an AP - Access Point. The AP is the central point of interconnectivity for all of the stations in the BSS. The AP may be equipped with an uplink port that connects the BSS to a larger network. This uplink can be wired or wireless, though they are usually wired and Ethernet. If the AP has such an uplink, the BSS is called an Infrastructure BSS, essentially forming what is likely to be a wireless access LAN.

The following diagram illustrates these basics.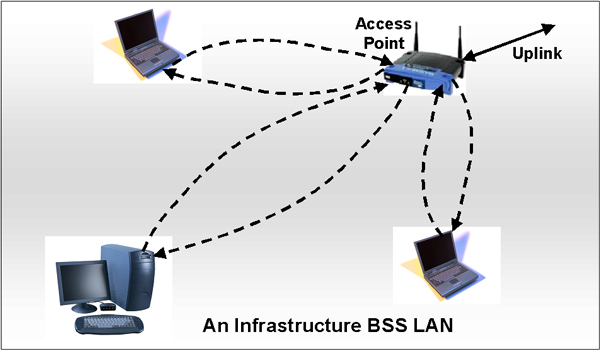 ESSs. Multiple BSSs can be interconnected via their uplink interfaces. WLAN jargon states that the uplink connects the BSS to the DS - Distribution System. Such an interconnected collection of BSSs through a DS is known as an ESS - Extended Service Set.
IEEE Specs. Most core wireless characteristics fall under the province of the IEEE 802.11 specifications. In particular, these specs relate to radio based transmission.
The following gives a quick outline of the IEEE 802.11 specs generally referred to as the spread spectrum radio bands.
IEEE 802.11b

ISM - industrial scientific and medical bands
often called the basic range to help you remember the b
Frequencies

902 - 928 MHz
2.4 - 2.4835 GHz

these higher frequencies are more prevalent due to improved bandwidth
these frequencies are also quite loaded and you might get interference from cordless telephones, microwaves and other devices

These bands are not capable of full duplex communication on a single frequency

this is a major reason why you need to halve any bandwidth capacity you hear for wireless right at the start

Theoretical throughputs are 11Mbps
Effective throughputs are generally 5 to 5.5 Mbps
FCC licensing is required due to penetration capabilities of the signal.

limit wattage so range is usually maxed at 600 to 800 feet outdoors
limit wattage so range is usually maxed at 100 to 150 feet indoors
range can be 1 mile or up to 10 miles with an external antenna
frangibility of the signal can still be an issue

IEEE 802.11a

U - NII for Unlicensed National Information Infrastructure
5 GHz bands
range is generally half of what it is for 802.11b due to attenuation at higher frequencies
These bands are not capable of full duplex communication on a single frequency

this is a major reason why you need to halve any bandwidth capacity you hear for wireless right at the start

Theoretical throughputs are 54Mbps
Effective throughputs are generally 30 Mbps
FCC licensing is required due to penetration capabilities of the signal.

limit wattage so range is usually maxed at 300 to 400 feet outdoors
limit wattage so range is usually maxed at 25 to 75 feet indoors
frangibility of the signal can still be an issue
The 802.11g specifications have apparently been finalized
IEEE 802.11g

integrates four different standards
I have read it makes use of ISM bands for transmitting from a client - 2.4 GHz bands
I have read it makes use of U-NII bands for reception to client - 5 GHz bands
I have also read from a more reliable source it really makes use of ISM bands but uses a different approach to get its capacity
theoretical capacity of 54 Mbps
effective throughputs are generally 30 Mbps
ranges similar to 802.11b