Eastern Adirondack Health Center
Tyler Noyes, an ex-student, works at Northern Berkshires Health Center in North Adams. I am relying greatly on information he is feeding me to develop this case on a non-urban regional health center.
Background. Eastern Adirondack Health Center competed with several other smaller regional hospitals in New York to become a prototype for other regional hospitals. One component of these efforts is to ensure that EAHC has implemented functional attainable state-of-the-art computing solutions.

The EAHC campus is composed of three buildings and a parking garage.
80 bed hospital
20 physician offices in an ambulatory care center
administration building
The data center is contained in the administration building. All of the buildings are within 200 feet of the others.
The EAHC has a fractional T3 that they lease from the telephone company. Most of their network traffic is local to the hospital campus, though they estimate that 70% is within the campus network and 30% moves outside. Most of their external traffic is to other hospitals, insurance providers and health care centers. Thus they only need about 5.0 Mbps on their fractional T3.
They have fiber optic connections from the data center to a main switch in the basement of each of the buildings. They provide Gigabit Ethernet over these fiber optic links. The following diagram represents the backbone.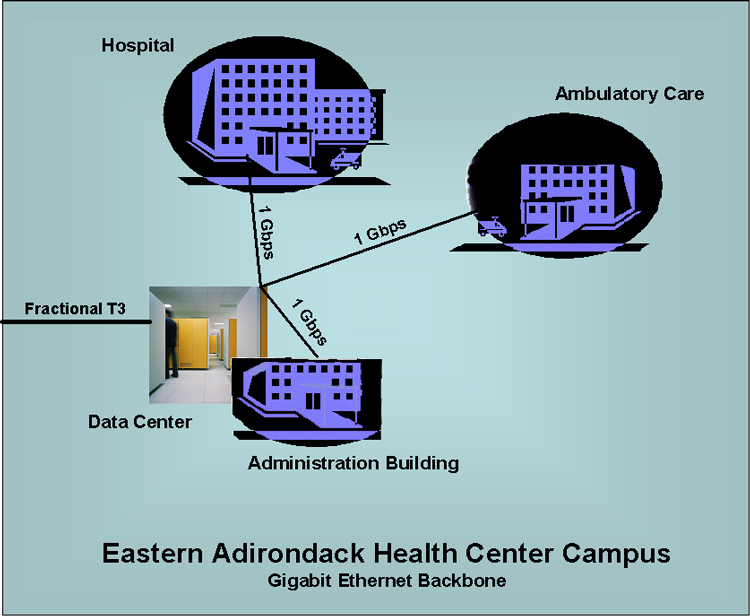 The actual devices used on this Gigabit backbone are the following.